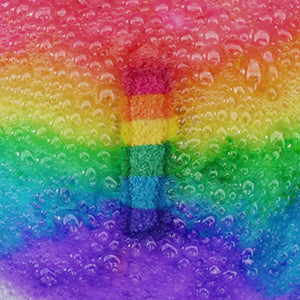 Highlights
Hand crafted to order.
Vibrant colors of red, orange, yellow, green , blue & purple.
Each set contains at least 25 bars.
For use in hand crafted bath bombs.
Description
Our fan favorite where all the colors of the rainbow can used in your DIY bath bomb recipe. Be creative from cloud bath bombs to magical shaped creatures. Measuring 2.5 inches can be used to create your own bath bombs. Each set contains 25 bars, just add them to your bath bombs to liven up the look and color of your creations! Made with water soluble dyes they will dissolve easily upon contact with water. Create unique bath bombs with these embeds and let your creativity sparkle.
Usage:

Use one to two embed bars inside your bath bomb recipe to create colorful effects.
Main Ingredients:
Sodium Bicarbonate
Citric Acid
Water Soluble Dye
Oil